Prof.
Anna
Berkenbusch
Professor of Communication Design
Campus Design, Villa-Anbau, 2.OG, R. 217
T
+49 (0)345 7751-830
,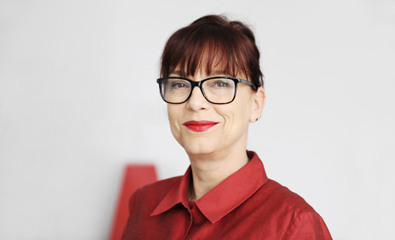 1955 Born in Erwitte. 1975–1979 Visual Communication studies in Düsseldorf. 1979–1982 Designer at MetaDesign,
Berlin and London. 1982–1988 Managing partner of Denk Neu! Gesellschaft für Werbung und Kommunikation des Menschen im Sinne des Menschen und der Natur mbH advertising and communications agency, Berlin. 1989 Established Anna B. Design in Berlin. 1989–1992 Guest professor at University of the Arts and University of the Arts Bremen. 1994–1995 Professor for Communication Design at Anhalt University of Applied Sciences, Dessau. 1995–2003 Professor for Communication Design at the University of Duisburg-Essen. Since 2003 Professor at BURG, Design Faculty. In 2003 with Maren Niemeyer, co-editor of Denke Krieg (I Think War) a book on the situation of children during the Kosovo conflict; 2009 co-editor of Geschlossene Gesellschaft (Private Function) on people with illegal status in Europe (with Sebastian Haustein, Friederike Kühne and Bastian Renner). Member of specialist juries such as the Braun-Feldweg Award for Critical Design Texts, keynote speaker at conferences and symposia on design and communication Numerous national and international awards.