Ernst-König-Str. 1-2, 06108 Halle (Saale)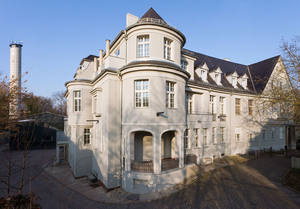 New offices available!

DesignHaus Halle is looking for additional tenants from the creative sector and has immediate availability. The start-up centre at Burg Giebichenstein University of Art and Design Halle is currently already providing workspace at favourable conditions to 23 companies with around 35 creative staff in Ernst-König-Straße. As a result of further conversion and refurbishment work, additional offices are now available.

Start-ups and recently founded companies can apply with their business concept up to 8 June 2012. Offices with technical infrastructure are available at reasonable conditions for a maximum period of five years. The offices are right beside the Design Campus. The university's Transfer Centre, which is located in the same building, means that tenants will benefit from advice, training and a lively network.

A committee of university members will decide on the allocation of workspace. It will be possible to move in from July 2012 onwards, in consultation with tenants.

The application form is available for download on the right.
DesignHaus Halle provides start-up help to young entrepreneurs and graduates – e.g. advice and support with commercial and legal issues. It also offers them an opportunity to network and exchange experience and information. DesignHaus Halle is a facility within Burg Giebichenstein University of Art and Design Halle that exists in parallel with the Transfer Centre; both are run by the university.
Workspace
DesignHaus Halle provides workspace at reasonable conditions for companies from the creative sector. Ideal office infrastructure is available, and tenants will also benefit from the lively environment offered by the Design Campus:


Rooms and workspace can be used in a variety of ways
Links to university facilities
Business networks
Start-up advice
Ongoing training
Specialist training for designers
Training on design-relevant business processes
Leading experts on current topics
Career advice for Burg Giebichenstein students and graduates to help them get started in their careers:
Career planning and application check-ups
Practical placements and job placements
Training for career beginners
Event and communication forum for the general public
BurgAlumni network
Contact networks and company presentations
Exhibitions and lectures

DesignHaus Halle is an institution within Burg Giebichenstein University of Art and Design Halle.