Jour Fixe digital: Measures of Closeness – A Lexicon of Gestures
Am Dienstag, 14. Juli 2020, 18 Uhr findet der Jour Fixe digital statt. Prof. Philip Gaißer lädt zum Interview mit den Künstlerinnen Ofri Cnaani, Prof. Stella Geppert und Evann Siebens ein. In der Zeit des Lockdowns der Corona-Pandemie entwickelten sie eine partizipative Zoom-Performance, die ausschließlich im Chat durchgeführt wurde.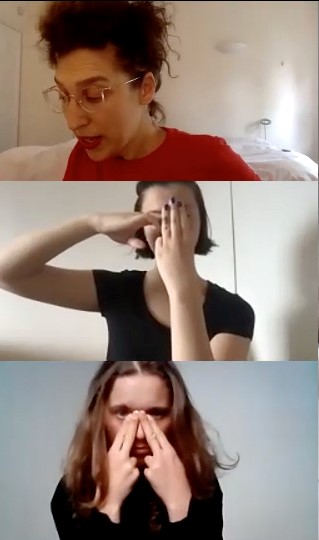 "Measures of Closeness: A Lexicon of Gestures", #03 © Ofri Cnaani, Stella Geppert & Evann Siebens.
Video: Prof. Philip Gaißer lädt zum Interview mit den drei Künstlerinnen ein.

Measures of Closeness: A Lexicon of Gestures
Der Videostream unter https://vimeo.com/437954023 ist ab Dienstag, 14. Juli 2020, abrufbar und noch eine Woche verfügbar.
Die Teilnahme ist kostenfrei, eine Anmeldung nicht erforderlich.
A safe-distance performance by Ofri Cnaani, Stella Geppert and Evann Siebens
Wie bleiben wir in einem kontaktlosen Raum in Kontakt? Können wir ohne Berührung, ohne Haut überleben? Was sind die neuen Vermessungen von Distanz und Nähe?
Während des Lockdowns der Pandemie COVID-19 gingen die Künstlerinnen nach der Konzeptidee von Ofri Cnaani diesen Fragen nach. Sie entwickelten auf der Basis der jeweiligen künstlerischen Positionen und der kontinuierlichen Forschung zu Geste, Raum, Konnektivität und Technologie eine partizipative Zoom-Performance, die ausschließlich im Chat durchgeführt wurde. Sie trafen in dem Zeitraum von April bis Juni 2020 auf digitale Communities in Brüssel, Tel Aviv und Südafrika. Das Interview gibt hier einen Einblick in den Prozess. Die aufgezeichnete Probe zusammen mit Studierenden der BURG dokumentiert die Phasen der Performance.
Dem Ansatz der "Intra – Action" folgend, setzt sich die Performance mit Aspekten von Nähe und Distanz auf konkreter und abstrakter Ebene auseinander. Aus Gesten der Annäherung und Berührung, Textauszügen von Karen Barad und körperimmanenten Tätigkeiten wie Atmung bestehend, verschwimmen dabei die realen und virtuellen Verhältnisse von Körpern im Raum. Die Kamera, der Computer, das Netz und die Oberflächen, die Datenräume werden medial durchdrungen, um die Vermessung von Berührung erfahrbar zu machen. Kommunikative Räume werden aus der Ferne körperlich verdichtet.

Ofri Cnaani ist eine in London lebende Künstlerin. Ihre Arbeiten wurden u.a. in der Tate Britain, UK; Metropolitan Museum of Art, NYC; Inhotim Institute, Brasilien; Israel Museum, Jerusalem; Kiasma Museum, Helsinki; PS1/MoMA, NYC; BMW Guggenheim Lab, NYC und in der Kunsthalle Wien gezeigt.
Ofri Cnaani ist derzeit Doktorantin im Kuratoren-/ Wissenschaftsprogramm des Goldsmiths im Visual Cultures Department.
Evann Siebens' Feld der künstlerischen Arbeiten umfasst Medien, Performances und Fotos mit Bewegung. Ihre "linsenbasierte Praxis" verhandelt den menschlichen Körper als Archivort und die Politik des weiblichen Blicks. Sie lebt in Vancouver, Kanada, und trat kürzlich im Witte de With in Rotterdam auf. Ihre Arbeit, die sie auf der APerformanceAffair in Brüssel zeigte, war 2019 auf der Titelseite der New York Times zu sehen.
Stella Geppert versteht ihre Arbeit als eine "relationale Untersuchung" verbaler und nonverbaler Körperkommunikation, die wesentliche skulpturale und choreografische Fragen verhandelt. Ihre jüngste Choreographie COMMUNICATION CAPTURES wurde 2019 im DEN FRIE, Centre of Contemporary Art in Kopenhagen uraufgeführt und Elemente bei APerformanceAffair in Brüssel gezeigt. Sie ist seit 2010 Professorin für bildhauerische und raumbezogene Praxis im Studiengang Kunstpädagogik an der BURG, sie lebt in Halle und Berlin.