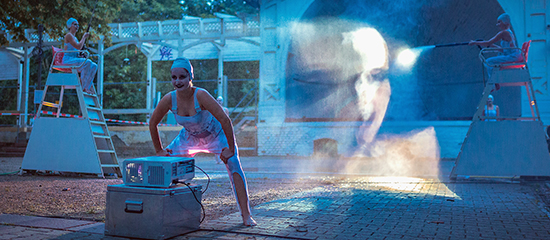 Courses leading to a Master's degree, 2 or 4 semesters standard period of study
Master's degree programs

The master's programs at BURG are aimed at graduates of bachelor's or diploma programs with a primarily creative-artistic focus. All applicants are subject to a course-specific entrance examination. However, this can also be taken by graduates of other fields of study who are qualified in the subject. In addition to this examination, most degree programs require proof of subject-related internships or comparable practical experience. One goal of the program is the preparation of the individual master's thesis, after the successful completion of which the title Master of Art (M.A.) is awarded.
Duration of studies

The duration of the study program is flexible and is based on the number of semesters of the previous study program:
two semesters: upon completion of a four-year bachelor's degree of the same subject with 240 ects credits or a comparable diploma program
four semesters: upon completion of a three-year bachelor's degree or diploma program in the same field of study
four semesters: upon completion of a non-subject-related or non-design/artistic course of study.
Studying and working on the Design Campus
The master's program at BURG is project-oriented and offers extensive opportunities to deepen the theoretical and practical aspects of the respective discipline and to implement them in complex project work. In this context, the Campus Design at BURG offers high-quality facilities with a large number of specific workshops. Unique to any university in Germany, they offer the opportunity for intensive underpinning of design work through practical experimentation and realization. As a rule, master's students can propose their own projects or choose from several project offerings of the respective degree program. In addition, there are interdisciplinary courses in design science, social science, and art and design. The communicative atmosphere at the Design Campus and the proximity to students and teachers of the respective other Master's programs as well as to the campus of the Department of Art offer a lively exchange. In many master's programs, interdisciplinary work is expressly desired.
Registration for the entrance examination for the winter semester 2022/23 Bachelor, Diplom, Master
4. March 2022 und Upload of the Portfolio until 13. March2022
Online-Application Entrance Examination (Bachelor, Diplom, Staatsexamen)
Registration for the entrance examination Master for the winter semester 2022/23
1. April until 15. May 2022
Online-Application Master Courses
Registration for the entrance examination Master for the summer semester 2023
1. October until 15. November 2022
Online-Anmeldung Master Courses internal students; external students only Multimedia Design)
More informationen
7. April 2022
Buddy Day (Registration)
16. - 17. Juli 2022
November 2022
Buddy Day (Registration)
January 2023