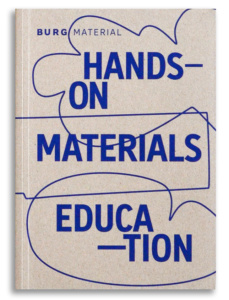 This second publication by the Burg Material collection takes a closer look at the materials and methods which were part of more than eight years (2012-2020) of hands-on material education. The collaborative and hands-on work by the Platform MAKE. is shared and demonstrated in 20 projects focused on analogue-digital, do-it-yourself, free experimentation, live research, and speculative futures.
Furthermore, if showcases the Burg Material Collection as a living archive. Next to its approximate 750 material samples, the collection is bringing together the material output from the university workshops, student projects, personal donations including research talks, company presentations, material exhibitions and guest lectures.
The visual documentation is supported with references that provide more information on materials manufacturers, project videos, inspiring publications and case studies related to materials understanding and making things ourselves. A good read for designers, artists, educators and (change) makers interested in the (material) practice of making our way towards a more sustainable future. With contributions by Aart van Bezooijen, Professor of Material and Technology Transfer, and Dieter Hofmann, Rector of BURG.
Burg Material – Hands-on Materials Education
Publisher: Prof. Aart van Bezooijen, Burg Giebichenstein University of Art and Design, 2021
ISBN: 978-3-86019-163-7
Editorial Team
Aart van Bezooijen, Ulrike Mäder, Lorenz Ebersbach, Kathryn Abbott, Silke Janßen
Graphic Design
Vreni Knödler
Print
Burg University Press
132 pages, full colour photos and illustrations, 16 x 22,5 cm
Language
English
Order
15€ – Available at burg-halle.de/publikationen or write make@burg-halle.de
featuring: #burgmaterial #pasteprinting #metalprinting #smartmaterials #unstablematter #bamboostructures #preciousplastic #recyclingaluminium #scrapglass #glassblowing #departmentofseaweed #concretecanvas #hanjipaper #materialofthemonth #repairmanifesto #saltlab #lndwhalle #slimetheory #conflictedmatter #growingasmaking #biofabrication #speculativefutures #materialarchiv #growartscience #dutchdesignweek #grassimuseum #synstiftung #paludikultur #materialdesigners #materialslam #burgvelo #burghalle