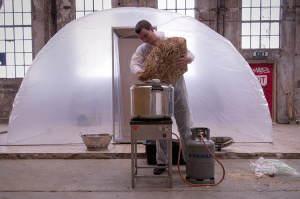 (Cooking the straw substrate, source: Mediamatic Amsterdam)
This year's WINTERSESSION 2015 features workshop on "The Art and Science of Mushroom Cultivation" instructed by Antoni Gandia.
"Fungi are organisms that have an enormous cultural potential that we are only just starting to discover. Some people even claim that they will save the world. For Antoni Gandia (M.Sc. in Molecular and Cellular Biotechnology of Plants) fungi are a source of new materials that can replace many synthetics in the 21st century. They play an important role in our food systems as well as having great symbolical value. These are the reasons why scientists as well as artists are starting to work with them on many levels." – The workshop takes place in a clean biological laboratory supported by the GROW Platform for Art/Science Projects.
For more information and registrations (until 28.1.2015) please see the WINTERSESSION 2015 workshop program (with "The Fast and the Furious: Marker Techniques", "Analog VJing mit Pencil Quincy`s "Magic Machine", and many more workshop oferings for Burg's art and design students).