Experimental Sculpture / Spatial Art / Body and Space Concepts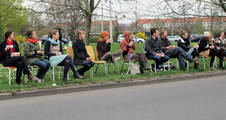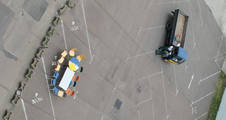 Teaching concept for sculptural and spatial practice
Sculptural art forms that integrate the presence of the viewer in the process of creating the work contain a gesture related to art interpretation. Depending on the focus, such work can be developed further and trained in the direction of art or art interpretation.
The transparent conveyance of teaching concepts is important to me as they enable the students to develop a high level of ideational realisation in structural thinking. This in turn can be rendered useful for a job in fields requiring art interpretation in line with modern approaches.
The transfer between artistic, sculptural methods of working and the specific processes of awareness and learning is not only made conscious as personal experience. Instead, it is also analysed with regard to its possibilities for translation into teaching and mediating practice.
Spatial art/body and space concepts
'Body-space concepts' encompass working with the body, space, and their atmospheres within various societal concepts. Here, one main focus is on the communicative and social processes that shape space and leave their mark on it. Body/space phenomena within different societal contexts – from those that create real places to aspects involving setting in scene – will be studied. The students in the course will examine differences in spatial perception in all its manifestations, situations, and relationships, and realise interventions in public space in the form of temporary, ephemeral sculptures, installations, and performative actions. Exercises related to physical awareness and perceptive states will be tried out collectively and individually as part of the work.
Sculptural practice/experimental sculpture
'Experimental sculpture' deals with the basic issues of sculptural spatial work by means of the experimental application of traditional techniques/materials and invention of contemporary forms of expression. On the main course level, students will learn to develop a substantiated sculptural language of forms and the associated material studies and form-finding experiments while working as freely as possible. They experience what it is like to work experimentally and do research based on their own interests. A performative process that examines the artistic process as if conducting field research is the methodological foundation of the course.
Formats
Work discussions
The regular discussion of work is a basic element of any study of the arts. Questions of artistic tendency are formulated in small groups at the relevant workstation and in a class as a whole. Based on works and work processes that have arisen on site, the characteristics of an artistic process – as well as sensory, autonomous thinking and acting according to individual tendencies – will be presented and discussed.
Class plenum
In the class plenum, working groups on an artistic position will be presented and discussed (work discussions), the class's common areas of interest on current topics in art will also be discussed, and artistic projects will be developed by the class as a whole. The focus is on the critical handling of the lecture, dialogue, and presentation settings as a means of promoting a lively culture of discussion within the class as a whole. The process of independently implementing a plenum provides the opportunity to compare and test artistic processes of thought, action, and interpretation.
Focussed block workshops/laboratory for artistic working as individuals and in a group
As part of focussed block workshops, students will use an equipment pool/workshop space as a laboratory for individual and joint work. Artistic strategies grounded in practice and research will be conveyed for the interest-directed researching of materials and techniques. They are a key foundation of any study of art.
Free project work – Multi-functional space/professor's studio
As a condition for the qualification of an artistic practice that accompanies the creative process, students will derive teaching methods from an analysis of their own artistic work and their experience with collective artistic processes. They will put their growing awareness of how artists work and the tracking of processes involving experience and knowledge to the test in the form of communication and accompanying texts in colloquia and apply the results in free project work.
Week-long excursions as a whole class
In a week-long excursion, all the students in the class join together behind closed doors. They will experience and go through artistic work processes next to each other or as a group. This week offers an intensive introduction to artistic work and aims to offer students the opportunity to work intensively as artists independent of any regimented schedule.
Publications
When Destruction Becomes New Form, Hamburg 2011
Unabhängig von der Lage, Cuxhavener Kunstverein, Hamburg 2010
Bist du da?, Plakatfolder, Künstlerhaus Bremen, Bremen 2007
Das Rätsel bleibt in seiner Verschiebung am selben Ort, ein Projekt zu Unmerklichem von Stella Geppert, West Germany, Berlin 2006
Ach so. Stella Geppert / Objekte / Installationen / Interventionen, Frankfurt am Main 2006
Bibliography
Björn Hegardt in conversation with Stella Geppert, Systemizing Social Space, FUKT Magazine No. 18 - The System Issue, p. 67 -75
https://www.fuktmagazine.com/shop
Scott Reyburn, It's the Art Form of the Moment (but It's a Hard Sell), NYTimes / Published Sept. 9, 2019 / Updated Sept.18, 2019
https://www.nytimes.com/2019/09/09/arts/design/performance-art-market.html
P. Morais, Peut-on acheter et vendre une performance ?, Le Quotidien de l'Art. (9 September 2019) p.7
https://fr.calameo.com/read/005675109b4790cc5cf49
Maren Butte, Bewegungskonstellationen – "Ten Scores for a Sculpture" als Choreografische Skulptur / Movement Constellations – "Ten Scores for a Sculpture" as Choreographic Sculpture, in: _Stella Geppert, SCORES AND SCULPTURES, Distanz Verlag, Berlin, 2019
Ludwig Seyfarth, Eine Kommunikations-Bildhauerin,A Communication Sculptor, in: _Stella Geppert, SCORES AND SCULPTURES, Distanz Verlag, Berlin, 2019
KÖRPEREINSATZ / Herausgeber: Stadt- und Kreissparkasse Leipzig, Konzept: Michaela Schweiger, Burg Giebichenstein Kunsthochschule Halle, 2018
Tom Bullmann, _Den Neumarkt humaner gestalten – Performance-Künstlerin Stella Geppert erläutert ihr Projekt Augenblickverknüpfung // Künstlerische Okkupation – Neumarkt wird zum Arbeitsplatz / 20.09.2018 // 24.09.2018, Osnabrück
Lisa Rosendahl, POWER PLANT, in: POWER PLANT, Stella Geppert, Antonia Low, Tina Marie Nielsen / Henrik Brach-Lips, Kunsthal Nord (Hg.) Aalborg, 2018
Stella Geppert: _Zur Genese einer Klassenausstellung. Ein fiktives Gespräch, in: Pierangelo Maset / Kerstin Hallmann (Hg.), Formate der Kunstvermittlung, Transkript Verlag, Bielfeld, 2017
PER FALTUNG INS GEBIET, Studierende der Klasse Stella Geppert, Herausgeberin: Stella Geppert, Halle, 2017
Stella Geppert, Die Form navigiert sich innerhalb der Wogen des zuvor aufbereiteten Hafenbeckens selbst, Burg Giebichenstein, Halle, 2017
Für mich haben Gespräche architektonische Formen / Ein Interview mit Stella Geppert von Norbert Bayer // In my view, conversations have architectural forms / Interview with Stella Geppert by Norbert Bayer, Berlin 2015
Professoren und Professorinnen der Burg aus Kunst und Design... Herausgegeben: Burg Giebichenstein Kunsthochschule Halle und Jule Reuter, Halle, 2015
Stella Geppert, Der Plan bleibt spontan, Burg Giebichenstein, Halle, 2015
Stella Geppert, Abbiegen in das Links von Gestern, in: _Wie wollen wir leben - 50 Jahre Halle - Neustadt, Burg Giebichenstein Kunsthochschule Halle, Jule Reuter, 2014
Bärbel Schlüter: Im Raum der Fassade: temporäre Installationen , Verlag Silke Schreiber, München, 2014
Ab in die Ecke! Städtische Galerie Delmenhorst, Delmenhorst, Germany, 2012
Stella Geppert: Wir sind alle "Zeiträumer" - Von der Realität des "Zeiträumens", In: _Als wär' nix gewesen. Gruppe RaumZeit (Hg.), Halle, 2012
Michiko Ogura, Circumstances of Berlin Art As Series / Exploration warehouse feel like mouse / »Secret cellar« during the Cold War, in: Yomiuri Shimbun /
Art Education / Art Pedagogy
profile page
artistic work of Stella Geppert