Sculpture/Materiality and Space discipline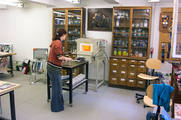 Metal workshop
Metalwork facilities with vices, straightening plate, creasing (1m), small bending roller, lathe, guillotine shears. Various techniques for working with sheet metal such as driving and drawing. There is a large circular metal-cutting saw for cutting material. All the standard welding processes can the carried out: gas-shielded arc welding, MIG/MAG, WIG (also Alu), electrode welding, gas welding, point welding. Cutting techniques: flame cutting, plasma cutting.
Forge / workshop for steelworking
Fully equipped workshop with two forges and anvils and a 60 kg pneumatic hammer for working with solid material of up to 60 mm in diameter. The covered outdoor workspace in the courtyard has a slewing crane (1 t) for the production of sculptures of up to 3.50 m in height. Gas-shielded arc welding (MIG/MAG, WIG), electrode welding and gas welding can be carried out in the workshop. An electrical universal bending roller is available for bending a wide range of metal profiles and pipes (up to 70 mm in diameter).
Enamel workshop
The enamel workshop is located across from Burg Giebichenstein, in the basement of the 'Weißes Haus'. Using and working with enamel has a long tradition at Burg Giebichenstein, and we still offer the opportunity to work with enamel – something that is becoming increasingly rare. There are workplaces for a maximum of six students in our workshop. Two different materials are available to us for enamelling. The first is decorative enamel, which can be worked using traditional techniques e.g. cloisonné or champlevé, mainly on copper; the second is industrial enamel on sheet steel, which offers a wide variety of processing means. In our workshop, enamelling can be carried out on surfaces and on sculptural forms. The preparatory metalwork can be carried out in cooperation with our metal workshop.
Head of workshop: Mario Schott
Forge / workshop for steelworking
Head of workshop: Jörg Bochow
Telephone: 0345 7751 -670/674/ /5223071
Enamel workshop
Head of workshop: Mario Schott
Telephone: 0345 7751 -678 / 671, schott(at) burg-halle. de
Office hours: 9 a.m. to 4 p.m. and on appointment
Campusplan Kunst