Inclusive Break – Artist Talk & Performance IMMERSION von Stella Geppert
Im Rahmen der Ausstellung "Inclusive Break" in Shanghai, China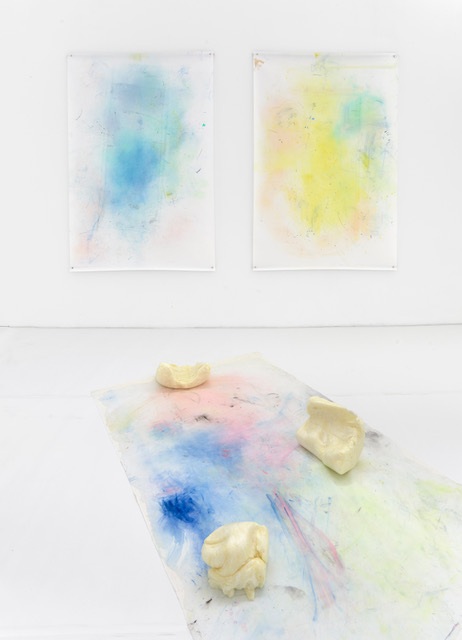 Stella Geppert, IMMERSION #05 / 03 (wall) from the series "Over Night", 2021
IMMERSION #02, based on a pigment drawing from the series "Over Night" / silicon, linen, fabric, 2021
Inclusive Break – Artist Talk & Performance IMMERSION
Stella Geppert provides insights into her artistic practice as a "relational investigation" while asking the questions about the connectedness of bodies, communicative necessities and collective empathy. For "Inclusive Break" she works with measures of time that relate to vital and organic rhythms, such as breathing, balance and sleep.
COMMUNICATION CAPTURES is based on inhalation and exhalation to sensitively model the space for capturing verbal and nonverbal communication. "InsideT Collective" works on the temporality of the organ of balance.
Her sculptural body prostheses enable an expanded sensory experience and specific bodily experiences. In doing so, she develops her own body practices that highlight the intelligence of the body, making previously unconscious action visible.
Artist Talk
Date: 11 December, 2021, Saturday, 14:00-15:00
Location: Zoom Webinar
Artist: Stella Geppert, with experiences of Wei Man
Language: Chinese, Chinese Sign Language, English
Zoom ID: 825 7727 7931
Code: Goethe123!
Link: goethe-institut.zoom.us/j/82577277931

"IMMERSION" Performance
Date: 12 December, 2021, Sunday, 14:00 - 15:00
Location: Liu Haisu Art Museum, 1609 West Yan'an Road, Shanghai
Artist: Stella Geppert, Wei Man
Admission: Registration for museum entry via We chat account of Liu Haisu Art Museum is required. The performance is restricted to 20-30 people at a time due to limited space in the exhibition hall.
QR Liu Haisu Art Museum
Silicon imprint from "Immersion #02" on linen with pillows
Concept / choreography: Stella Geppert
Solo Performance / interpretation by: Wei Man
Duration: ca. 45 min
This performance is based on IMMERSION #02, a pigment drawing from the series "Over Night" by Stella Geppert. Since the artist cannot come to Shanghai, she sends her impression of sleep as a platform to perform. The enclosed pillows are very fragile, and the performer move between falling and cautiously hovering into sleep. The accumulated daily movements of the body transform into micro-movements in the form of an increasingly resting body that surrenders to the inner times of the organs. Sleepiness slowly spreading into the space is intentional. The duration of the performance works with the collective moment of fatigue that spills over from one person to another.


About the Artists
Stella Geppert's works are born out of the analysis of movement in communicative and bodily states that are formed and shaped by social conventions. As a sculptor and performer, she defines the medium of drawing as a sculptural imprint of the essential movements of human interaction. Sculptural and performative work is therefore work on and with relationships, which is why she explores the question of the specific and transformational states of body and space, material and touch, contact and resonance. The body's sensual ability to "think itself into" space, body, material and substance is an important aspect of her work, in which she portrays the human body as extremely fragile and vulnerable.
Since 2010 she is professor at BURG Giebichenstein Kunsthochschule Halle for experimental sculpture and body and space concepts. In 2019 "COMMUNICATION CAPTURES" was premiered by DANSEHALLERNE in Copenhagen (Denmark). Since 2020 she is in the part of the Berlin performance collective for choreographers "FLUTGRABEN PERFORMANCES". Grants in Sweden and Denmark support her choreographic works.
Wei Man started professional dance training at the age of 12. For her, the 10-year experience is a process of recognizing instinctive body and self. After graduating from the Minzu University of China with a major of choreography in 2011, her urgent exploration of nature and creativity in dance and education drove her to study contemporary dance education in Germany. This journey opened up and navigated her into new perspectives on the body which links performance, psychology, and social issues that became a channel to penetrate the essence and reflect the world.
Since 2014, she and her partner WANG Jiaming have co-founded the Corbie Rabbit Art Center, focusing on the research of body-based interdisciplinary art education. In addition, she personally keeps interest and passion on innovation, unique and challenging performance, as a maker and performer has been join diverse creation and performance projects such as COLORLESS TASTELESS, III, TIME SKIN since 2010.