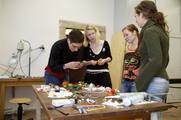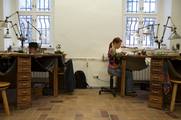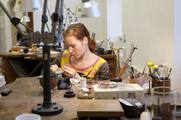 Goldsmith/silversmith workshop
The workshop is set up in a traditional manner for goldsmith and silversmith work. There are 20 goldsmith's tables and 14 drawing table workplaces. All students have their own workbench, which they can retain for the duration of their studies. The drawing tables have Internet access.

Larger items of equipment for jewellery techniques are already present, and students should provide smaller handtools themselves. Copper, brass and nickel silver, sheet metal and wire can all be bought in class. Students should provide all other materials that are required.
Enamel workshop
The enamel workshop is located across from Burg Giebichenstein, in the basement of the 'Weißes Haus'. Using and working with enamel has a long tradition at Burg Giebichenstein, and we still offer the opportunity to work with enamel – something that is becoming increasingly rare. There are workplaces for a maximum of six students in our workshop. Two different materials are available to us for enamelling. The first is decorative enamel, which can be worked using traditional techniques e.g. cloisonné or champlevé, mainly on copper; the second is industrial enamel on sheet steel, which offers a wide variety of processing means. In our workshop, enamelling can be carried out on surfaces and on sculptural forms. The preparatory metalwork can be carried out in cooperation with our metal workshop.
Campusplan Kunst
Schmuckwerkstatt
Werkstattleiter: Jakob Klug
Telefon: +49 (0)345 7751-676, klug(at)burg-halle.de