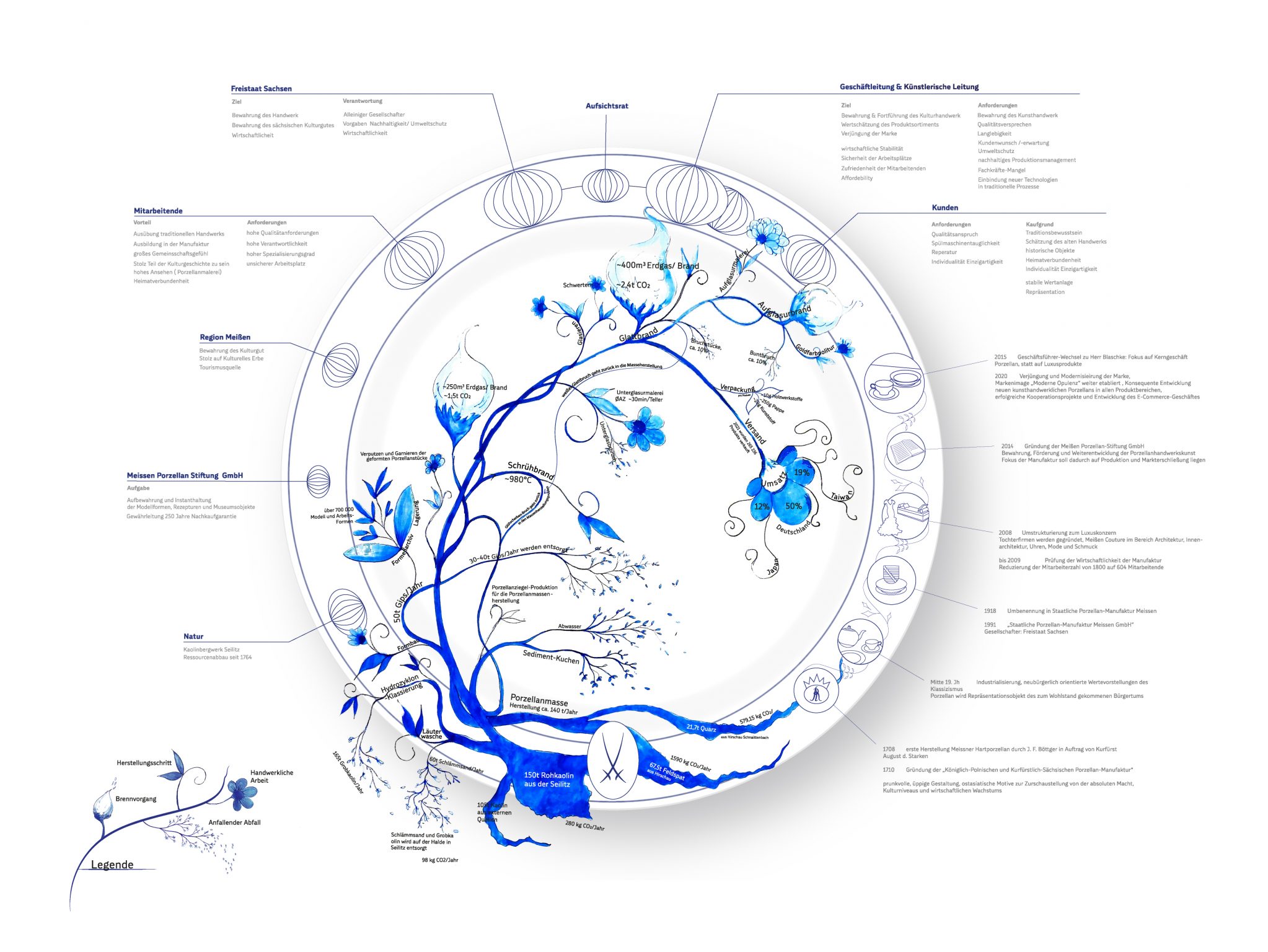 MEISSEN
graphical analysis of sustainability aspects & resulting claims
Staatliche Porzellan-Manufaktur Meissen GmbH is the oldest porcelain manufactory in Europe. It has been state-owned for over 300 years and has been producing porcelain by hand since the very beginning. It also owns a large archive of moulds dating back to the Baroque period.
Its products include table and dinnerware as well as figurines, statues and murals. Many historical art objects produced by the manufactory are in large museums and art collections. This is because porcelain reflects the zeitgeist of society. The European luxury goods are known all over the world and are exported to Asia and Russia, among others.
At first glance, this does not show at all in the manufactory. It is located in the city of Meissen on the Elbe River. One can imagine the manufactory as a closed independent organism: Almost all processes related to the versatile porcelain production take place in the company's own production facilities: from mass production, plaster mould making, modeling and bossing, glowing and glaze firing, to onglaze and underglaze painting, shipping and finally sales. Kaolin, the clay that forms the main component of porcelain together with quartz and feldspar, is mined in our own mine.
Due to the great variety of products, we have dealt with the table and tableware products in our examination of the porcelain manufactory. In doing so, we made the plate with the well-known blue "onion pattern" the subject of our research. The cobalt blue of this decoration is an essential part of the Meissen DNA and has represented Meissen since 1731.
student:


Johanna Eger
& Raymond Francis Sandy
cooperating company:
Meissen


many thanks to:


Lena Hensel, Beate Preuß,
Bianca Herbst & Dr. Tillmann Blaschke
project:
is transition for sale?

year:
2022