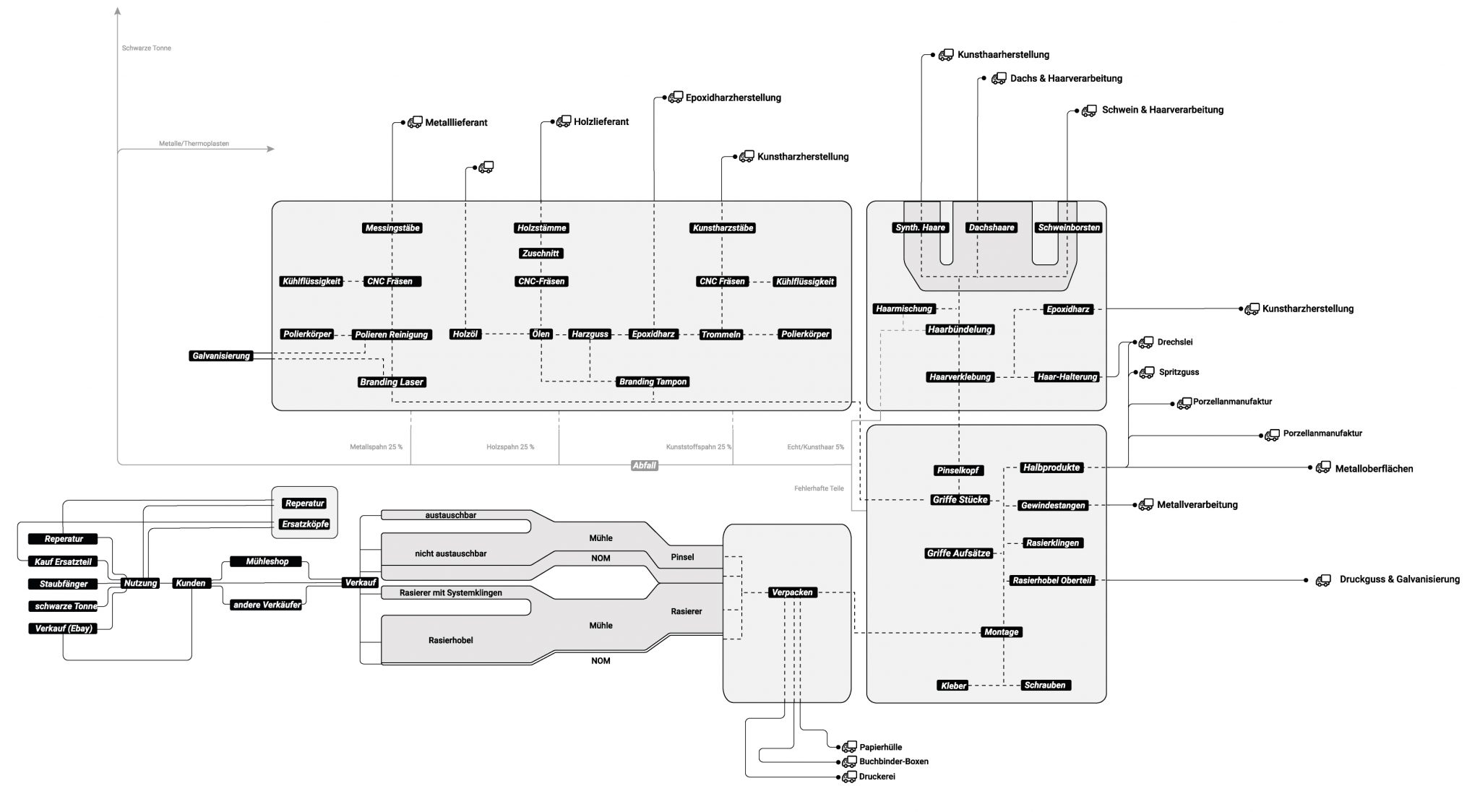 MAGAZIN
graphical analysis of sustainability aspects & resulting claims
Mühle is a family business, which was founded by Otto Johannes Müller in 1945 and is now run by his grandchildren Andreas and Christian Müller. The manufacturer is located in the idyllic Spitzengrün, in the middle of the Ore Mountains. The region is characterized by traditional craftsmanship, the influences of which can be found in the Mühle company. This is reflected not only in the manufacturing process, in the cooperation with craftsmen and the involvement of craftsmanship skills of employees, but also in the communication and commitment in the communication of shaving practices in the form of shaving workshops.
During the company visit we were guided through all production steps by the managing director Andreas Müller. To begin with, the handle parts for shaving brushes and razors are manufactured from various materials in CNC machines. Subsequently, the surfaces of the handles are refined with a polish, oil or by galvanization. In brush hair processing, both synthetic and natural hairs are first mixed in the right proportions and aligned in the right direction. Then they are weighed, bound and glued. These processes take place both by hand and by machine. Then the individual product components, manufactured both internally and externally, are assembled by hand and then the mill logo is applied. The finished products are now packaged and shipped from here.
In addition to the two-day company visit, we used analysis from the Idemat-App on materials and manufacturing processes, a survey, contacting Ebay customers, and hands-on experiments to get an overview of the Mühle company and what shaving is all about. To learn more about suppliers, we visited an electroplating plant and researched material suppliers.
student:



Lisa-Marie Halwax,
Lion Sanguinette &
Hannah Tuchel
cooperating company:
Mühle


many thanks to:

Andreas Müller
project:
is transition for sale?

year:
2022