Prof.
Ute
Hörner
Professorin für Kunst und Medien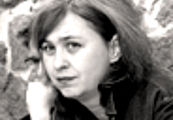 Vita
1964 in Karlsruhe geboren
1983 – 89 Studium der Bildhauerei an der Akademie der bildenden Künste Stuttgart
seit 1991 Zusammenarbeit mit Mathias Antlfinger
1993 – 96 Postgraduiertenstudium der Medienkunst an der Kunsthochschule für Medien Köln
1997 Gründungsmitglied von XObject Space, Labor für Kunst und Neue Medien, Düsseldorf
1998 Festivalleiterin der Videonale 8, internationales Video- und Medienkunstfestival im Bonner Kunstverein [mit Judith Ruzicka]
1998 Arbeitsstipendium der Kunststiftung NRW
seit 1999 Professorin für Kunst und Medien an der Burg Giebichenstein Hochschule für Kunst und Design Halle
2000 ars viva 00/01 – Kunst und Wissenschaft. Förderpreis des Kulturkreis der deutschen Wirtschaft im BDI [mit Christoph Keller, Natascha Sadr Haghighian und Jeanette Schulz]
2003 Art Frankfurt, Projektraum/Förderkoje, Galerei Gaby Kraushaar
2004 Bildhauersymposion Heidenheim, Werk 04 Preis für aktuelle Kunst im öffentlichen Raum [mit Olaf Nicolai, Thorsten Goldberg, Carsten Gliese und Klaus Simon]
2006 Projektstipendium im Rahmen der 7. Werkleitz Biennale, internationales Forum für Medien und Kunst, durch die Kunststiftung des Landes Sachsen-Anhalt
2007 Kunstpreis der Stadt Limburg
2009 Hochschulwechsel
Ausstellungen
Zahlreiche internationale Ausstellungen, Festivalbeteiligungen und Vorträge u.a.: Kunsthalle Düsseldorf | Neue Gesellschaft für bildende Kunst, Berlin | Museum for Contemporary Art Sydney and Experimental Art Foundation Adelaide | Red House Center for Culture and Debate, Sofia | Phaidros Videoart, Tokyo | Edith-Russ Haus für Medienkunst, Oldenburg | Videonale, Kunstmuseum Bonn | ZKM Zentrum für Kunst und Medientechnologie, Karlsruhe | Museum Ludwig, Köln | Internationale Kurzfilmtage, Oberhausen | Werkleitz Biennale für Medien und Kunst, Halle.