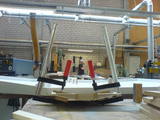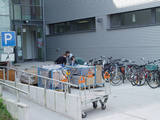 Further information on application
Design Campus, 'Lehrklassengebäude'
Neuwerk 7, 06108 Halle
Burg Giebichenstein University of Art and Design Halle
Office for Student and Academic Affairs

P.O. Box 200252
06003 Halle/Saale
Germany

Telephone +49 (0)345 7751-532
Fax +49 (0)345 7751-517

Email: playingandlearning(at) burg-halle. de
Design of Playing and Learning (M.A.)
Play spaces, play objects, play activities … playing and learning takes place everywhere and in all life phases, and is influenced by societal and technological developments. Accordingly, the spectrum of topics and design requirements involved is very broad. The master's course in Design of Playing and Learning includes the innovative shaping of play spaces and objects and the design of concepts and media, along with scenarios for playing and learning situations; the course is characterised by experimental and research-oriented work.

The design projects are activity- and user-oriented. The main focuses are on observation and research, the integration of user groups into project work, good process coordination, and innovative and activity-based design and implementation strategies. Students have the opportunity to experiment with interdisciplinary design processes within the university in cooperation with other courses and also with external partners.

Societal demands with regard to our willingness to engage in lifelong learning and explorative activity are increasing all the time. Against this background, master's students concentrate and reflect on their role in the shaping, conception and communication of methods and opportunities for personal development for individuals and, in addition to this, in the exploration and use of the potential of play activity in societal processes.