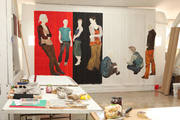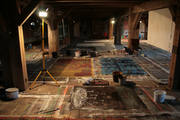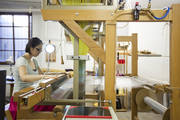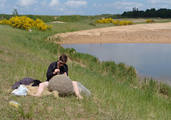 Large studio, 'Hermes' building, 5th floor, Hermesstraße 5
Our large studio, with both open-plan and separate rooms offering individual workplaces for students, is located on the attic floor of the 'Hermes' building. Other rooms have computer workplaces for working on CAD designs, a well-structured reference library and an archive of project documentation.
The open studio is the working and communication space for students and teaching staff.
Textile Factory, Ernst-König-Str. 2
Our own workshop for digitally controlled Jacquard weaving is located in the textile factory. An agreement regarding close cooperation with the factory supports the acquisition of basic specialist skills in various textile techniques such as tapestry weaving and knitting, embroidery, loom weaving and dyeing; this agreement also allows for external parties to carry out student projects. Working at the 'Textilmanufaktur' provides valuable insights into the restoration of historical textiles.
In consultation with the department of Textile Design, the tufting equipment and the silkscreen printing workshop here can be used.
Silkscreen printing workshop, 'Weißes Haus' building (University library), Seebenerstraße 193
Lecturers: Petra Natascha Mehler
Paper workshop, Unterburg (Lower Castle), Seebener Straße 1
The paper workshop at Burg Giebichenstein is available, along with the graphics workshop and other workshops.
Partners
The partners for this course is the Textile Design at our university, companies from the textile industry, gallery owners, partners from the healthcare sector, construction developers, engineers and architects, freelance artists, cultural institutions and the Sepia Institute for Textile Arts.
Large studio
'Hermes' building, 5th floor
Hermesstraße 5, 06114 Halle