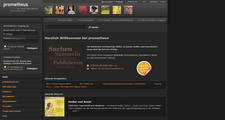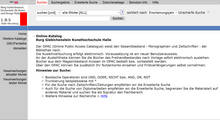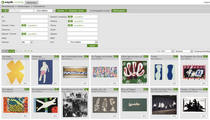 Catalogue of all six university libraries in Halle – OPAC
OPAC (Online Public Access Catalogue) is the most important searching and ordering system for the University Library. The catalogue documents all monograph and periodical literature in the Library in full.

The Common Library Network – GBV
The Common Library Network (GBV) is a joint association of libraries in seven German federal states – Bremen, Hamburg, Mecklenburg-Western Pomerania, Lower Saxony, Saxony-Anhalt, Schleswig-Holstein und Thuringia. There are 380 libraries in this network, including national, state, university and other third-level libraries.

Karlsruhe Virtual Catalogue – KVK
KVK is a service provided by the University Library in Karlsruhe that allows for simultaneous searching in library and bookstore catalogues in Germany and abroad.

Journal Database – ZDB
ZDB is the largest database in the world for information on titles and owners of periodical editions, including the titles of electronic journals. It is under the auspices of the Berlin State Library [Staatsbibliothek zu Berlin], and the system is run by the German National Library

Online Contents – OLC
OLC lists over 50million individual articles from over 28,000 journals.
Campus Design, Neuwerk 7, 06108 Halle
Veränderte Öffnungszeiten während der Semesterferien
Burg Bibliothek:
Mo–Fr 9–18 Uhr
21.08.–15.09. geschlossen

Archiv und Sammlung:
nur nach terminlicher Absprache
OPAC online catalogue / User account
Semester reserve collections